Let's see who we are and like what we see. Enough already.
I love glossy women's magazines. I've always loved clothes, and shoes, and beautiful objects beautifully shot.
Of course, as a teenager growing up with an artificial leg, I never saw my body reflected in magazines like Sassy or Seventeen, but at the time I didn't care. I was too busy trying to hide my disability; I would have been horrified to see my own shape reflected back at me. Even thinking about showing my prosthesis made me feel exposed and ashamed.
At that time, as it is for most teenagers who are terrified of not fitting in, fashion was all about acting the part. This is why, in all the photographs of me between 1985 and 1988, I am, and not by accident, wearing whatever my best friend Megan happened to be wearing, but in a slightly different version. If she's wearing a rugby shirt with COKE scribbled across the front, I'm wearing one with SWATCH printed in pink. We both, at different times, sported crazy polka dotted numbers, peach pants with matching mock neck sweaters, rolled up parachute pants (the perfect cuff could take 20 minutes), and the one fashion trend I think I nailed, and that I still love today: white jeans with a striped shirt. My first and favorite striped shirt was made by Esprit, was about three sizes too large, and makes me look like I was just released from a fancy prison.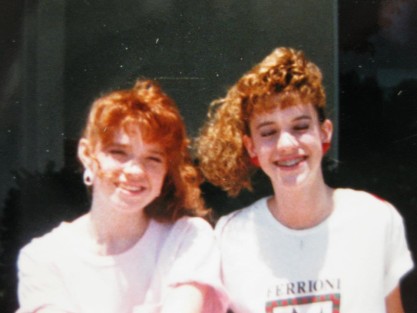 In all of these photographs from junior high, Megan and I look like twins, only she's much taller and brunette, but everything else, down to the bad perms, side ponytails (think "poodle"), gravity defying bangs (thanks, PermaSoft), iridescent blue eye shadow, and frosted pink lipgloss is identical. Looking back, it isn't so pretty, but the earnestness is, I can say now at 41, pretty sweet. We were very faithful besties (or, as we called it then, twinsies).
But the darker side of our matchy-match was this: We were afraid to stand out, afraid to be different. I once literally stumbled through the hallways of junior high because an eye infection meant I couldn't wear my contact lenses, my parents wouldn't let me stay home from school, and there was NO WAY I would have been CAUGHT DEAD in my thick glasses. This is undoubtedly what I told my father as I made my awkward way out of the car and tripped into homeroom. I spent the day looking drunk, feeling my way down hallways. I've always liked my hair and my lips, so I imagine I spent a good part of the day swinging my hair around, glossing my lips, and looking completely confused in all of my classes because I could hardly see a thing. Anything to look "normal."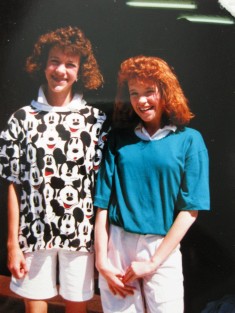 Anything to not be singled out for being ugly, which is how I felt most of the time, and how I still feel some of the time. Being a woman is brutal; being a woman with a disability adds a whole other layer of complexity to the often-heard directive to love yourself. I'm still learning how to do that. It's a process, not an end point. Sometimes it feels embarrassing that how other people perceive me, especially my physical self, is so important. But it does matter to me. That's the truth.
Into my 20s and 30s I used fashion as a shield—it was all about maximizing the good parts (small waist, nice shoulders, round butt), and minimizing what I saw as the shameful parts—namely, most everything from the waist down, booty excluded. As the years passed and I became more comfortable with my body, more confident in its abilities and yes, on good days, beauty, I became more and more irritated that I didn't see any women with disabilities in fashion magazines. It was like being invisible, only I was ready to be visible. There were and are some exceptions, of course, but they were and are just that: exceptions. It often feels like the magazines that do show different bodies want to be applauded for their efforts in showing what they deem "diversity," where a "plus size" is a size 12, which, by the way, is the size of the average American woman, the woman who buys these magazines in the first place. Not to mention, in all of Vogue's 832-page September issue, only two of those pages feature "plus size" women.
I did appear in a magazine once. Fitness magazine asked me to do a piece called "why I love my body." I had always thought being a model was glamorous, but it was not my bag. First, I wore the largest sample size available (size 6), and it took an hour for three people to fix what was wrong with my eyebrows, my hair, my freckles. Then I had to sit down while a fan blew my hair around and try to act natural and feral, while four or five people shouted, "Smile! Look happy! You love it!" It was one of the longest and most excruciating hours of my life, and it took a full hour to scrape off my face that night. When I got the pictures, I hardly looked at them. I looked terrified and wind blown.
The thing is this: Now I have a daughter. She sees me with my leg off and on, and just as she loves to try on my shoes, sometimes in the morning she tries to put on my leg. If I don't think my body is great, she won't either, and she will start to question her own. More times than I can count, people will say to me, "She's a model in the making," or "Look at those long legs." Of course she's perfect in my eyes, but these comments make me nervous, especially when they make me proud. She's 18 months old. Really? Look at her long legs?
Let's stop talking about plus-size and 0-size and model-pretty and long-legged and whatever else. Let's talk about actual women, and let's see them without a lot of fanfare, so that the people we see when we open the covers of those beautiful magazines are the same bodies we see when we walk down the street, when we open the front door of our homes, when we look in the mirror.
Let's see who we are and like what we see. Enough already.
Role Reboot regular contributor, Emily Rapp, is a professor in the University of Cailfornia-Riverside Palm Desert MFA program and the author, most recently, of The Still Point of the Turning World.
Related Links: