"Here you have the unexpected, glorious secret about dying. When you know it is going to happen, you can choose to make the final chapter of the story the very best one of all."
"Former lady who leaned in…" says the Twitter description beneath a photo of a beaming, golden-haired woman around my age in front of a vaguely African-seeming background. "… UK civil servant & CEO of Africa Governance Initiative." Looking at my screen, I feel that unmistakable twinge of envy/curiosity that I get every time I come across a beautiful young woman who's already far more successful than me.
It's Wednesday and I'm supposed to be writing a column. A piece that, in the spirit of my New Year's resolution to fully accept myself (foibles and all), justifies and validates my severe social network obsession. Today, though, all my feeds have nothing in them but #JeSuisCharlie and it seems a rotten moment to be agonizing about anything but Charlie Hebdo.
So instead I'm trawling Twitter and have stumbled upon this profile of a woman who, I instantly find myself thinking with impatient resentment, not only had a better career than I'll ever have but seems to have cashed it in for something else I desperately want: children.
"Now twin mum specialising in sofa sleeping, writing…"—I carry on reading, feeling my frustration with the woman mounting—"…and advanced bloody cancer."
Jesus!
I click hurriedly on the WordPress link below the description, instantly repentant for being an envious bitch. It takes me through to a blog called The Nuisance, and my hurried scroll through the homepage reveals that this woman, named Kate Gross, has just released a book and has filled her blog with beautiful literary meditations on living with terminal cancer.
The first one I stumble across, dated October 2014, offers a pained discussion of how cancer has left Kate, the Africa Governance activist impassioned about alleviating the suffering of others, desensitized to headlines of Ebola in the West African countries she loves. Compassion, she observes, is a muscle that she is intent on continuing to try to flex even through her suffering.
Other entries from this past November and December chronicle her struggles to plan Christmas for her boys without knowing how long she will last. Her Twitter timeline is filled with supportive tweets congratulating her on her new book.
I must read more from this woman.
I click through to Amazon UK to her new book, Late Fragments: Everything I Want to Tell You (About This Magnificent Life), and find myself reading, horrified:
Ambitious and talented, Kate Gross worked at Number 10 Downing Street for two British Prime Ministers whilst only in her 20s. At 30, she was CEO of a charity working with fragile democracies in Africa. She had married 'the best looking man I've ever kissed'—and given birth to twin boys in 2008. The future was bright.
But aged 34, Kate was diagnosed with advanced colon cancer. After a two-year battle with the disease, Kate died peacefully at home on Christmas morning, just 10 minutes before her sons awoke to open their stockings.
And suddenly the illustration to the first post of Kate's blog, starting with "This is Kate's mother writing" and which I'd somehow not paid much attention to when I first looked at it, now makes sense: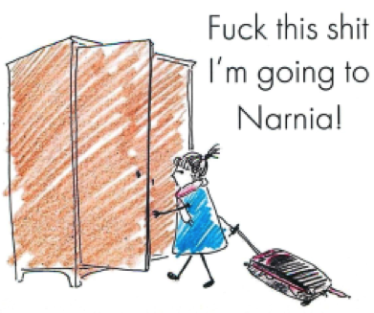 This is when I start sobbing.
There is no possible way I can write about social networks today.
*****
As I will soon find out, Kate Gross – 36-year-old former private secretary to Tony Blair and Gordon Brown, ex-CEO of Africa Governance Initiative, made an OBE by the Queen last year—died of colon cancer just two weeks ago, missing the sight of her twin boys opening their Christmas gifts that she'd so longed for in this Times article published at the beginning of December.
I am fascinated by this woman who did have it all—in her own words, "Good exam results, sensible job, beautiful children, and even (eventually) a respectable husband"—only to see everything taken from her. Because copyright restrictions prevent me from downloading her book here in Colombia, I write to my friends back in England to see if one of them can help me get me an eBook.
Amazingly, when I pass along the book title to my good friend Miriam, herself a British journalist, she sends the reply: "FUCK. That's unbelievable. That's my best friend sister's book."
Miriam gets the eBook to me, which she says Kate wrote for her sons. "So happy you are reading it. Spread the word!"
*****
I read Kate's book yesterday in a single sitting, and predictably, it is full of gems that left me feeling rather ashamed of having just days ago wasted so much brain space agonizing over my own social network obsession.
Below are some of the pearls from this woman who, "within hours … had gone from having it all to losing it all" and in the process discovered her own power: "I am woman, hear me roar."
On being a mother of twins who leaned in:
"The professional self I had constructed was smart and well-dressed and had stimulating conversations with amazing people. People were impressed. Inhabiting her world was exhilarating."
On neglecting the life of the mind during her career:
"I wish I had remembered earlier that I had a right to a 'larger life'—an existence where my working self was connected to all the other creative, exploratory, curious selves I had long since discarded."
On losing everything:
"Still there is this unexpected sense of completeness. What a relief not to be clinging on to the edifice of my ambitious professional self as if that were going to save me from eradication. What a relief it is that I don't have to lean in to know who I am."
On discovering her voice:
"I wrote (I write) myself into existence to stop existence being taken from me."
"Some days I feel as if I am reading my own mind only as the sentences form themselves. Words might slip, slide, and perish—but so will I. And before then, they make a murky mess clear for me."
On her own vanity:
"It is true that some people are using the news of my early demise as a chance to beatify me. I am not resisting this very hard, because I am vain, and who would tire of letters that say they are brave and inspirational?"
On death:
"Here you have the unexpected, glorious secret about dying. When you know it is going to happen, you can choose to make the final chapter of the story the very best one of all."
On heaven:
"Frankly, I prefer my intellectually incoherent view of nothingness-with-benefits. More than that, I prefer to spend my time thinking about how we build the republic of heaven here on earth, which seems so much more fruitful."
*****
Two weeks after her death, Kate Gross's words have already brought her here to me, in the opposite hemisphere.
For you fellow-sufferers who, like me, agonize over the judiciousness of allowing yourself to live out loud, to find your voice and use it (on social networks and elsewhere), perhaps Kate Gross's book might help lay some of your fears to rest.
After all, as Kate quotes Larkin: "Where can we live but days?"
Samantha Eyler is a freelance American writer, editor, and translator based in Medellín, Colombia. She has written about politics, immigration, Latin America, and social justice for publications such as NACLA and the New Statesman. You can follow her on Facebook and Twitter.
Related Links: