The evening's theme was 'China: Into The Looking Glass,' so where were all the Chinese designers on the red carpet?
"Where were all the Chinese designers?" This great question was asked by Caroly Asame in her analysis of the dresses worn by patrons at the Metropolitan Museum's annual gala. Like many of us, Asame thought that this year's theme, China: Into the Looking Glass, would have provided a wonderful opportunity for Chinese designers to have their work appreciated in the West.
Asame speculated that perhaps stars were reticent to embrace Chinese fashion because the label "Made in China" has come to be associated with cheap products. But I can't help believe that the problem is more fundamental than that.
The night's theme was based on a new exhibit at the museum of the same name. In the words of the exhibit's website:
"High fashion will be juxtaposed with Chinese costumes, paintings, porcelains, and other art, including films, to reveal enchanting reflections of Chinese imagery… Through the looking glass of fashion, designers conjoin disparate stylistic references into a pastiche of Chinese aesthetic and cultural traditions."
The "looking glass" part of the theme was not an affectation. The night really was all about celebrating what special snowflakes our mostly male, white designers are because they are inspired by exotic things like Chinese art and culture—and of course, Chinese women.
I could be wrong here, but I am pretty sure that is the very definition of cultural appropriation.
A night which celebrated "Chinese aesthetic and cultural traditions" should have been about Chinese designers. And while I have absolutely no influence at the Met, I thought that the least I could do was highlight the beautiful work of Chinese designers.
I am by no means a fashion maven. So, I brought in some help, my 22-year-old son who has recently returned from a sojourn in New York and has a great eye. He and I picked the 10 looks we would have liked to see on the Met's red carpet.
1.) Luckily for us, this one actually was worn at the Met by Chinese actress, Fan Bingbing. It is by the prestigious Chinese designer Christopher Bu, who has created an incredible line of fashion that blends Chinese and Western style: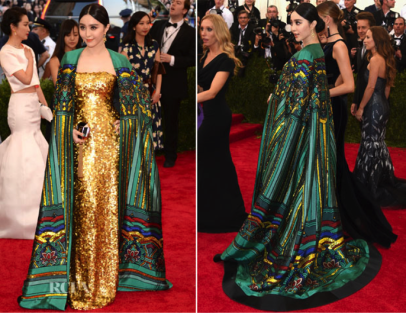 Source: RCFA
2) For those wanting to highlight the influence of Chinese art, how about this stunning couture dress by female Chinese designer, Zhang Jingjing. This rising fashion star first showed her work at the Mercedes Benz China fashion week in 2012. She made this embroidered silk gown in 2014 for a Chinese star appearing on the cover of a Chinese fashion magazine.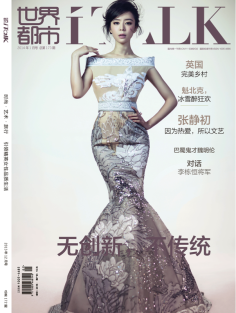 Source: Zhang Jingjing Media 
3) For Met patrons who dare to wear barely-there gowns, here is this gorgeous creation from the NE·TIGER line. Designer Zhang Zhifeng, who founded the fashion house in 1982, is known as "the first pioneer in China's luxury industry." The name, Ne-Tiger comes from the designer's childhood nickname: Little Tiger.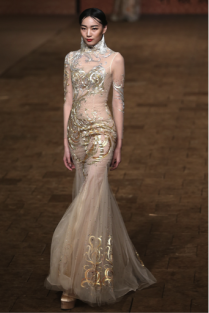 Source: The Rouge Feminist
4.) The huge selection of customizable fashion looks from Ne-Tiger made it difficult to chose just one piece to show here. So I have also included an interpretation of the ubiquitous black dress that would have looked good on almost any of the women at the Met. Here it is pictured on Chinese actress Qin Lan.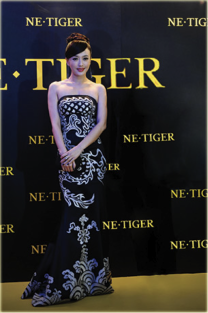 Source: Ne-Tiger
5.) For those who love ombre, I give you Liang Zi's impeccable style: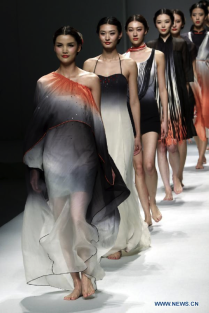 Source: Chinese People
6.) The most sensational gown of the evening was worn by Rihanna and created by the Queen of Chinese Fashion, Guo Pei. Her design house, Rose Studio is considered by many to be the Chinese equivalent of the Alexander McQueen, producing dresses that are at once elegant and grand. However, another Western design house, Dior, seems to be adopting one of her signature looks, Chinese porcelain prints. Here is a picture of the designer and a model wearing one of her gowns: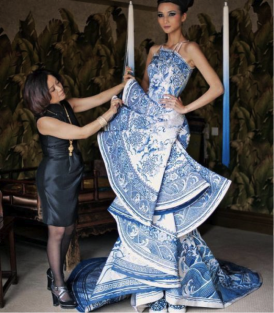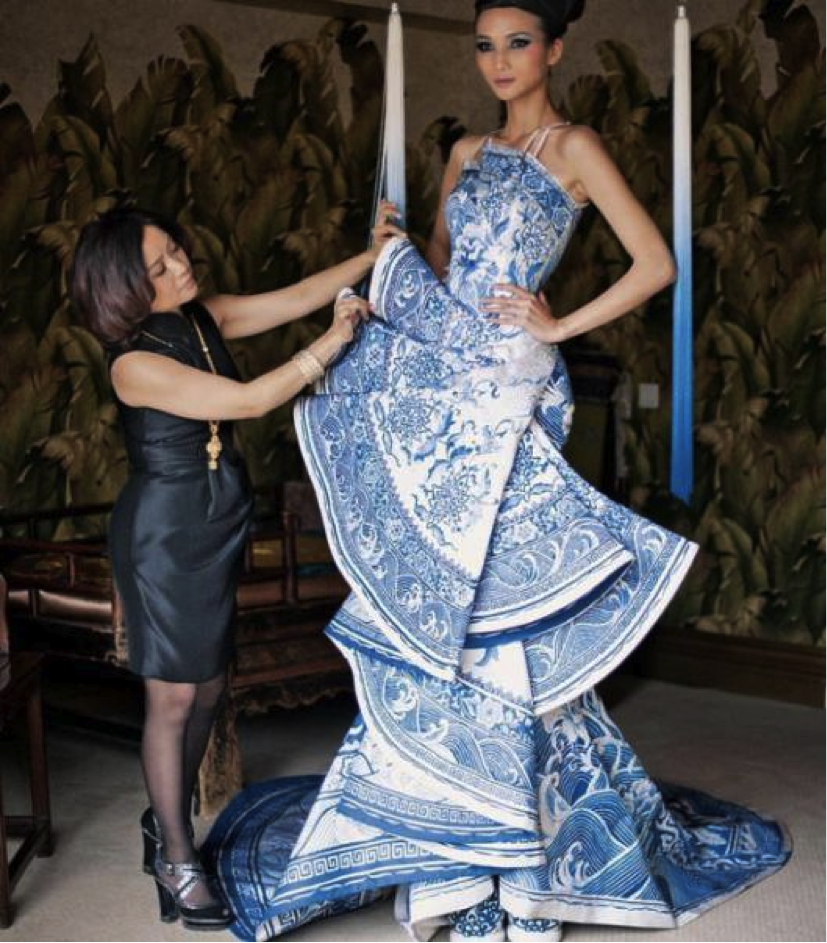 Source: Fashion & Style Guru
7.) If you are like Sarah Jessica Parker, and you absolutely must perch something a little crazy on the top of your head, here is a design from a show that wowed critics at the Makeup Trends portion of the China Fashion Week. It is by makeup artist Mao Geping. (Note: The makeup here would not have been appropriate for SJP.)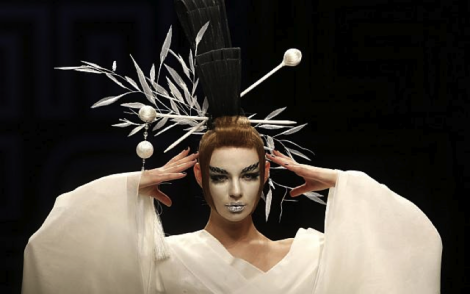 Source: The Straits Times
8.) One Chinese designer, Huishan Zhang, designed a line for Barney's that he hoped would be featured at the Met Gala. In an interview he said, "The fact that the Met chose this theme is huge, whether China is misunderstood or not. The first step is starting the conversation." Here is one of his dresses for the Met that we think would have looked stunning on one of the evening's more conservative participants.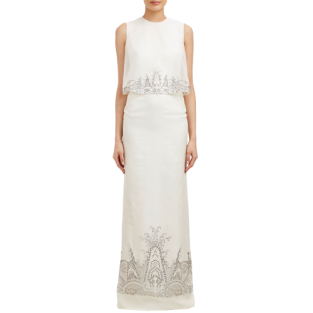 Source: Barney's
9.) My son wondered aloud if perhaps some of the stars and their stylists shied away from wearing Chinese fashion because of concerns about human rights issues or fears about getting designs or designers from China to the US. Fortunately, none of those concerns are an issue with one of the most celebrated designers from the last Fashion Week China. Sheguang Hu left his native China when he was 16. Now a Dutch citizen, he continues to show his work in China. But his work is produced in Europe. Here are three designs from his Sting Collection that would have delighted those who prefer to walk on the Lady Gaga side of the Fashion Street.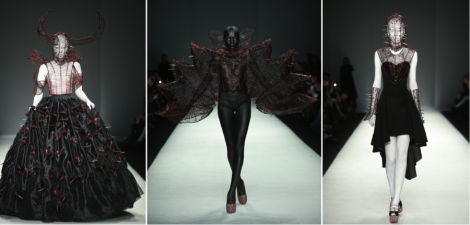 Source: GB Times
10.) Many of the guests at the Met gave a nod to the night's theme by wearing a red dress, a color which has significance in Chinese culture. I thought that it was a rather respectful approach and so I end my little foray into fashion with my personal favorite, this beautiful dress by Chinese designer Tom Dong.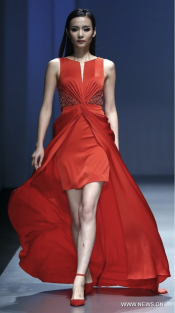 Source: Bejing.org
Lynn Beisner writes about family, social justice issues, and the craziness of daily life. Her work can be found on Role Reboot, Alternet, and on her blog: Two Parts Smart-Ass; One Part Wisdom. You can find her on Facebook and Twitter.
Related Links: