This originally appeared on Mamamia.com. Republished here with permission.
If you aren't capable of having a human conversation about sex, you should not be having sex.
There is a new app called Good2Go. The creators of the app say that it is "a simple sexual consent mobile phone app."
So, basically, Good2Go is a euphemism for sex, and the app is a way for people to find out if they want to bone each other without having to talk.
Apparently it was created to help clueless young men get a clearer idea of when a woman is consenting to sex. (Because if someone doesn't fully understand consent, obviously the best thing to do is take talking out of the equation and put an app in its place.)
Here's how the app works:
A man sees a lady he would like to have sex with. He approaches said lady, and hands her his phone. His phone (not him, his phone) asks the lady if she is "Good2Go." She then chooses to respond with one of three options: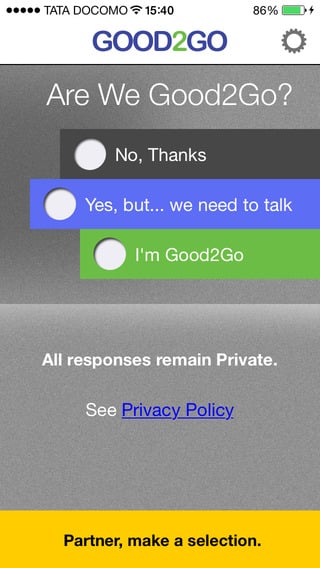 If the lady chooses "No, thanks," that is telling the interested gentleman that she has not provided consent. He must walk away: THE PHONE SAYS SO.
If she chooses "Yes, but…we need to talk," the gentleman and lady must have an actual human conversation. Probably about why he is attempting to communicate via smartphone.
And, finally, if the lady chooses the "I'm Good2Go" option, she is taken through to a second screen, this time to declare how drunk she is:
Once the lady picks one of these options, the whole exchange is logged in the Good2Go database, so that there is evidence that a conversation about consent took place, and the gentleman is free to enjoy sexy-times without having to worry about those pesky "rape allegations" that ladies always throw around willy-nilly.
(FYI: If the lady selects "Pretty Wasted," the app will not let her sleep with the gentleman caller. One would assume that the gentleman would notice a lady was "pretty wasted" without her confirming it in an app. But then, this app exists, so maybe one cannot assume that.)
So. Here's the thing:
IF YOU AREN'T CAPABLE OF HAVING A HUMAN CONVERSATION ABOUT SEX, YOU SHOULD NOT BE HAVING SEX.
Lee Ann Allman, creator of Good2Go, seems to be coming from a good place. She told Amanda Hess at Slate that she went to colleges across America and found that young men and women were confused about sexual assault: "…they're worried about it, but they're confused about what to do. They don't know how they should be approaching somebody they're interested in."
Hmm, yeah. That is a problem. But again, here's the thing:
IF YOU AREN'T CAPABLE OF HAVING A HUMAN CONVERSATION ABOUT SEX, YOU SHOULD NOT BE HAVING SEX.
If a young man is confused about how to approach somebody and whether or not that person is giving him consent, then that young man does not need an app. He needs a fucking education.
And an app that's designed to get a woman's "Yes" on record (just in case!) is not about educating men, it's about protecting them. (And let's be honest: If a man feels like he needs protection from possible prosecution, he probably doesn't understand enough about consent to be having sex in the first place.)
This app doesn't bring a conversation about consent to the table. By discouraging people from actually talking to each other, it takes it off the table completely.
And, I'm going to say this one more time, because it really can't be said enough:
IF YOU AREN'T CAPABLE OF HAVING A HUMAN CONVERSATION ABOUT SEX, YOU SHOULD NOT BE HAVING SEX.
Rant over.
Rosie Waterland is a contributor to Mamamia.com. Follow her on Twitter @RosieWaterland.
Related Links: