If you get home before 5pm and your beloved housewife is already drinking, don't judge her.
I am a housewife. I chose to be a housewife 10 years ago.
I clean the kitchen after every single meal and snack time. I get the kids looking nice in freshly laundered clothing and attempt to comb each of their ratty heads of hair each morning. I drop my husband's clothes off at the dry cleaning with his special requirements and sometimes I even pick it up. I buy groceries with my list of organic non-GMO ingredients and make nutritious dinners that only some of my children will eat. I carpool. I schedule play dates. I schlep kids to soccer, baseball, dance, piano, and horseback riding. I volunteer in the classroom and subject myself to millions of germs in the process.
So when I came across the "The Good Wife's Guide" in a 1955 issue of Housekeeping Monthly, which is said to have originated from a 1950s home economics textbook, I marveled at how the role of "housewife" has changed so much in 70 years. While the legitimacy of this article is in question, there is no doubt that these bullet points were taken from the societal belief system of that generation.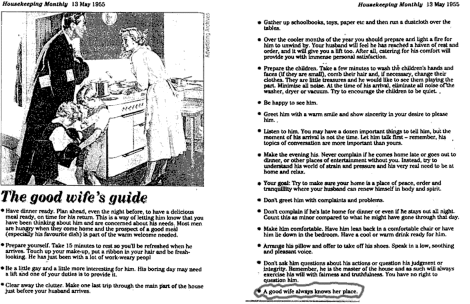 In honor of all of the moms everywhere who work so hard inside and outside of the home, I have re-written these "rules" to reflect how it should read in 2015.
A Husband's Guide To Maintaining A Happy Housewife
Make sure you have your housewife's favorite take-out establishment on speed dial. When you are on your way home and already received an earful about what a lousy, miserable day she has had, you will be prepared for peace by showing up with her favorite Thai food (don't even think about pizza!).
Make sure that the wine refrigerator is stocked. If you get home before 5pm and your beloved housewife is already drinking, don't judge her. She has had a long day and needs your support and understanding.
Don't come home and be grumpy. Remember, your housewife has probably had a shit-storm of a day, vacillating between mind-numbing boredom and mediating all-out sibling brawls. She could use some adult conversation and a cheerful attitude.
On your first walk-thru of the house, please bend over and pick up toys and random paraphernalia that you encounter along the way and return them to their proper place. Don't just walk over them like you don't even see them! Your housewife has most likely been stepping on Lego bits with her bare feet all day.
When you come home from work it is your time to spend with the children. Peel your ass from that couch and turn the TV off. Interacting with the offspring by participating in puzzles, games, and reading is encouraged. If it is a nice day, take them on a bike ride or walk outside. Give your housewife a break from the constant demands of children.
Be sure and listen to all the events of your housewife's day, even if they seem unimportant to you. Be empathetic about the grocery store meltdown and sibling brawl that ended in a bloody nose. Lend her a shoulder to cry on if need be, or share in her laughter. The key word here is LISTEN.
Make the evening hers. Don't ever complain if she wants to go out with the girls for dinner and get really inebriated. If she is staying in for the night, get your hands lubed up with some cream or oil and give her a nice back or foot massage. Don't forget to re-fill her glass of wine.
It is wise to bring your housewife a freshly brewed cup of coffee in bed each morning. This act of kindness will start the day off on the right foot.
A good husband should always know his place.
Friendly disclaimer: While I do fully support and condone all ideas in the rules disclosed in the above Husband's Guide To A Happy Housewife, please know that I love husbands and believe in the fair and reciprocal treatment of all parties involved in a marital union. I also love and admire working mothers and aspire to be one again someday. Marriage is about compromise and balance and this you will find somewhere between the two extreme ideologies espoused in this article. Now please bring me some wine and pick that lego up on the way.
Megan Woolsey is the author of the blog, The Hip Mothership. When Megan is not raising four children (including triplets) or writing, she enjoys hot yoga and cooking, and obsessing about traveling the world. Her dream career is travel writing. Megan has been published on Scary Mommy, BLUNTmoms, Role Reboot, Great Moments in Parenting and Erma Bombeck's Writer's Workshop. Connect with Megan on Facebook, Twitter and Pinterest.
Related Links: